Alright sure, it's not Friday - the week got away from me in a hurry. It's gotta be Friday somewhere though, right?
Right?
OUR TOP STORY...
Perapanauts: Triangles (written by my good pal and hetero lifemate
Todd Dezago
) is out in stores NOW! While it's the third trade in the series, it's actually the first one from the run recently begun at Image and works as a great starting point for new readers!
In fact, you can get it for the ridiculously low price of $8.99 at DCBS! Maybe just add it to your order of, I don't know,
AWAKENING VOLUME ONE FOR ONLY $10.97 WITH AN EXCLUSIVE SIGNED ART PRINT!!
Lest ye forget, Alex and I have a two-part back up story debuting in issues 10 and 11 of Perhapanauts later in the summer - this would be an excellent time to jump on and get to know these guys!
Todd also just posted a funny pinup my fiance, the talented Jackie Santiago (
http://volatile-tifa.deviantart.com
) did for him - behold, THE PERHAPAPALS!
Check out his blog for more about Perhapanauts, Todd, and a wicked cool Friday Trivia contest posted, you guessed it, every Friday.
The Perhapablog!
QUESTIONS FROM OUR READERS...
Recently, Alex and I did a
great interview over at Omnicomic
which I linked to last week (and just now again). A reader left a comment and question up there which I've discussed here briefly in the past but want to bring up again. His questions and comments were:
"So what do I do with my three issues of the Awakening comic book? Now it seems I have to buy the same thing again. And how do I know the second volume will be published, when the comic book version was discontinued?"
I think those are valid concerns and good questions - below is my response:
"Thanks for the comment and double thanks for being one of the pre-hardcover supporters of the book! The decision to go exclusively to two hardcover volumes from floppy issues was based on a number of factors and was made by both Alex and I and Archaia.
For any number of reasons, indie floppy books, especially from smaller publishers which are only just beginning to grow a strong and consistent line, have difficulty finding success in a comic shop. After all, when shelf space is as limited as it is in most shops what are you going to give the slot to - a new, unproven book from a small publisher and a brand new creative team or the 81st tie in to Secret Final Civil Identity Crisis Invasion War? One of them has guaranteed sales. The other is a risk. Unfortunately, it's just smart business on the retailer's end. We bore the brunt of that uphill battle for three issues before Archaia began undergoing its reconstruction and, if not for said reconstruction, would have continued chasing that for seven more issues.
However, between the year-long restructuring (it's complete now and the company is in an excellent position going into the June re-launch) and taking those very obstacles mentioned above into consideration, it didn't seem prudent to return with issue 4 after being absent for a year and a half. Further, releasing in hardcover volumes allows us instant access/exposure to the book trade market (Amazon, Barnes & Noble, etc) which gives us even more avenues to offer the book. In turn, that gives us a much better chance of putting the book into a reader's hands.
As for buying the same thing again - yes and no (and isn't that the very nature of a collected edition release?). Sure the first three issues are included, but so are 10-pages of supplemental material that are story based and deal heavily with the time between events in the issues, as well as five brand new pinups from fantastic artists. In addition to that you get two more chapters and, if you order through DCBS, you're getting all this in a 144-page hardcover volume (with dust jacket) AND an exclusive signed print for just $10.97 - that should ease any pain of the money previously spent on issues.
I don't control the fates, the winds, or the fickle publishing industry so no, I can't guarantee beyond any horrifying doubt that Volume Two is coming. I can tell you that Archaia is an incredibly strong company, that the book is written and artwork has begun, and that we're on track to put it out in June of 2010. The surest way to make certain it DOES come out isn't to second guess it but to support the book - even if the very worst happens and Archaia isn't around in a year, strong sales would make certain another publisher would happily snap the book up for the final volume.
And hang on to those issues - supporting the book is one way to guarantee that those limited copies of issues 1 - 3 in the market might actually be worth more than cover price some day! :)"
The bottom line is that Alex and I are doing everything in our collective powers to make sure you're getting a great book and that you'll get another one a year from now. And then an entirely different story a year after that, one with nothing to do with zombies. And another book a year after that. And so on...
SOMETHING TO HOLD YOU OVER...
Last week you got a pinup from the amazing Patrick McEvoy which is being included in the Volume One hardcover. This week, I thought maybe you'd like a look at some actual pages you may not have seen yet...

SOME LAST MINUTE REMINDERS...
If you haven't already pre-ordered the book, do it now! Get to da choppa! Currently there are two ways you can do this:
- Print out the pre-order coupon below and bring it to your local comic shop to guarantee your copy this June!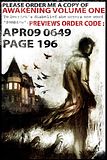 - Go to DCBS and order the book through them at 45% off to get yourself an exclusive signed art print! The direct link for Awakening is
http://www.dcbservice.com/product.aspx?id=303661#dt
.
The print is below, if you're curious...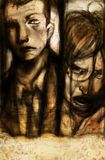 We'll have links to Barnes & Noble, Amazon, etc. once they update the listing.
We love you.